Get your hiking shoes on…The Great North Walk calls…
And what better time than now given the glorious winter weather we have been having.

However anytime of the year The Great North Walk, Berowra Waters section is amazing, offering stunning views from around the Berowra Waters area, beautiful flora and the occasional fauna when you stumble across it. Plus don't forget the Aboriginal carvings and middens scattered throughout the Berowra Valley National Park. Today was a picture perfect day to hike up The Great North Walk from Berowra Waters heading towards Cowan. Given we have had a pretty dry winter, the undergrowth is not as green and lush as it usually is, but the ground and rocks are not slippery with moisture and moss making it an easy uphill hike.

Starting at the Public Pontoon on the East side (Berowra side) of the river we headed down river along the path which runs past the residents car park. Once passed that you come across a path and guess what? Right there at the beginning of the path is one of the many Aboriginal rock carvings.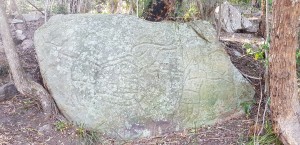 Further along the path you can take in stunning river views looking towards the 'water access only' residences and the hatted Berowra Waters Inn – a unique degustation dining experience combined with boat transfers to and from the restaurant, as it too is water access only. Don't forget that you can book your own 'water access only' accommodation for a Berowra Waters holiday, weekend away, Sydney escape or a Dine & Stay experience.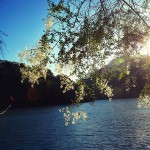 Following this path will eventually take you to a set of iron stairs leading upwards. The Great North Walk now turns into an uphill challenge, take it slowly, stop and take in the views, check out the flora and if you are lucky, the fauna. From beautiful wild flowers, stunning rock formations and the quietness of the bush, your hike up this path will be further rewarded once you get to the top.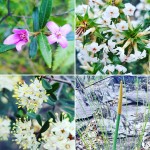 After a leisurely 20 min hike we arrive at the top of the hill to be amazed at the stunning river views from above.  You can see the Berowra Creek meandering around the hills, the houses with their private pontoons extending into the river, the Berowra Waters Marina and all the boats floating leisurely in the water. Absolutely worth the hike up hill to get a glimpse of this view! Now to head down!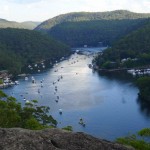 For further information and Great North Walk walking maps:
https://www.nationalparks.nsw.gov.au/things-to-do/walking-tracks/great-north-walk-berowra-valley-national-park http://thegreatnorthwalk.com/Cowan_Crosslands_guide